Legacy Class
UVA's Fourth-Years Led The Football Program From Adversity To Prosperity
By Brad Franklin
A streak 15 years in the making was broken. Virginia made its first-ever appearance in the Atlantic Coast Conference Championship Game. And the Cavaliers also made it back to a New Year's Six bowl game for just the second time in school history, while their quarterback broke the total offense record in just two full seasons.
It was that kind of year for UVA and one that many won't forget for a long, long time.
The Wahoos finished 9-5 this fall — winning their last four regular-season games, including a 39-30 victory over archrival Virginia Tech to take home both the Commonwealth Cup for the first time since 2004 and the Coastal Division title for the first time ever.
That victory punched their ticket to the ACC Championship Game in Charlotte, N.C., and also put them in a position to represent the ACC in the Capital One Orange Bowl in Miami. Despite falling to No. 2 Clemson (62-17), the Cavaliers came out swinging against No. 6 Florida in the bowl game and saw their comeback fall just short at 36-28.
"I'm really proud of my team," head coach Bronco Mendenhall said late that night following the loss to the Gators. "The culture we've established, the competitive spirit, the intensity and the camaraderie that's displayed from beginning to end. We're on a mission to just simply establish that you can have world-class academics and be at the top tier of college football as well.
"That's what's happening at the University of Virginia. We were a few plays short today in our execution to win the game, but it was not because of a lack of belief or confidence or ability."
The Wahoos relied on a small group of fourth-years that Mendenhall said will be a cornerstone of the program going forward, even if the team is positioned to fill some of those gaps in 2020.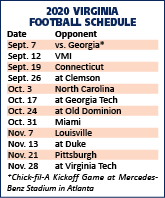 "I'm thankful to the senior class, those that came, most of whom I didn't select but honored their commitments when I came to the University of Virginia, that started with a 2-10 season and now find themselves on the verge and a great chance to have won the Orange Bowl," he said. "They set a foundation and I consider them a legacy class in terms of establishing what UVA football really is."
No player among that group personified that change quite like quarterback Bryce Perkins, who came to UVA after a junior college stint that happened in part because of a neck injury at Arizona State that threatened to end his career. Instead, he exited Charlottesville with 17 wins under his belt and as the all-time leader in total yardage (7,910). He also ended his Virginia career as the single-season record holder for passing yards (3,538) and total offense (4,307). At 307.6 yards per game, he was the ACC's leader in total offense, the first Hoo to do that since Shawn Moore in 1990.
"I continue to be amazed and impressed by Bryce Perkins," Mendenhall said simply.
"It meant the world," Perkins said when asked what the season meant to him. "Not just what we did, but how we did it. Thinking about all the years that Coach Mendenhall has been here, and I was only here for two of them, but how every year, the unbroken growth of this team and the spirit and the bond of this team is unmatched. … You can see on the field just how hard we fight for each other.
"I'm not into moral victories, because we lost the game. But I'm proud of these guys. Proud of how we worked. And I'm proud of the culture we set and the standard."
UVA's fourth-years had a lot of success outside of Perkins. Joe Reed — a Charlotte Courthouse, Va., native — not only was a first-team All-ACC pick and All-American at kick returner, but was also recognized as the 2019 Jet Award winner (nation's best return man). He leaves UVA as the career kick return yardage record holder (3,042) with a record five kick returns for touchdowns. Reed is the only player in Football Bowl Subdivision history with more than 3,000 career kick return yards and a career kick-return average of at least 28 yards.
He also teamed with fellow fourth-year Hasise Dubois and third-year Terrell Jana to give Virginia three receivers with 70 receptions or more. And Dubois' 1,000-yard season gave UVA its second in a row (Olamide Zaccheaus in 2018).
On the defensive side, Virginia loses injured All-America cornerback Bryce Hall, inside linebacker and team captain Jordan Mack, and defensive lineman Eli Hanback, a stalwart in the middle who never missed a game during his entire four-year career.
"When Coach Mendenhall got here, we won two games," Hanback recalled. "It was pretty bad. A lot of guys left. And now we're in the Orange Bowl. It wasn't the outcome we wanted, but we fought hard. We gave it all we've got.
"So, I'd say for myself, my class, and the seniors and guys behind me who are leaving, we did leave a lasting legacy that shows if you buy in and trust the process that it will pay off."
A lifelong Wahoos fan, Hanback was clear on what his time in Charlottesville meant to him.
"It's very sad," he said. "I came in the locker room, had some tears. I'll probably have more later. But it's been an honor and a blessing to have an opportunity to play here. I hope I left it better than I found it. I'll be grateful for the rest of my life for the opportunity that I had to come play football here."
"I couldn't be more proud of my team and my staff," Mendenhall said, "and thankful for the support that we have received from President [Jim] Ryan and his belief that, again, you can have world-class academics and exceptional football at the Power Five level.
"[I'm also thankful] for [athletics director] Carla Williams and her support helping to add some of the things that allow for us to be competitive at that level. I'm very lucky to be the coach."
Cavaliers Add Bulk On Both Lines
During the early signing period for college football recruits Dec. 18‑20, Virginia inked 13 players — including a pair of pass rushers who had not previously verbally committed to the school.
Among the 13 players that joined the Virginia football family was the program's highest-rated player of the Bronco Mendenhall era — four-star offensive tackle Andrew Gentry. The No. 8 offensive tackle and No. 68 overall player in the class of 2020 per Rivals, the Columbine, Colo., native is the highest-rated offensive lineman to sign with Virginia since Morgan Moses a decade earlier.
"Wow, I really love these players," Mendenhall said during a press conference Dec. 18. "It's hard to say that authentically, and I'm not talking about ability, even though I think they're all very good football players. The relationships we have with the [players] that are listed here, those relationships go really deep. And they are, I would say, almost completely aligned with the principles, goals, values of not only our program, but of UVA, and so I think they're excellent fits.
"The fit, meaning the dynamic of academics and character. And then championship-caliber football or NY6 [New Year's Six] caliber football has now combined into a more formidable narrative for the University of Virginia."
The focus of the class was in the trenches and in the defensive backfield. UVA not only signed the 6-7, 300-pound Gentry — whose offer list was a who's who among college football royalty, including Alabama, Clemson, LSU and a host of others — but also Washington (D.C.) Gonzaga three-star center Jestus Johnson III. The 6-3, 330-pound Johnson is listed as the No. 9 recruit in the D.C. area.
Virginia also signed another "DMV" (D.C., Maryland, Virginia) prospect in Severn (Md.) Archbishop Spalding three-star defensive tackle Jahmeer Carter. The 6-2, 300-pounder was the program's first commit in the class and is rated as the No. 41 defensive tackle in the country by Rivals.
Defensive end Su Agunloye and outside linebacker/defensive end Jonathan Horton both inked with the Cavaliers on the final day of the early signing period. Agunloye, a 6-6, 240-pounder from Lindenhurst (N.Y.) committed and then signed with the Hoos unexpectedly, while Horton — a 6-4, 215 pounder from Louisiana — decided against waiting and signed early, too. Rivals ranks Agunloye as the No. 42 strongside defensive end in the land and pegged Horton the No. 19 weakside defensive end nationally.
Away from the line of scrimmage, UVA had a really nice group in the secondary led by a trio of three-star signees. The last of those commitments came from New York native and three-star Episcopal (Va.) High cornerback Elijah Gaines, who picked the Cavaliers following his official visit in December. Rivals' No. 55-ranked corner helped boost a group that already included Louisiana's Donovan Johnson (No. 49 safety) and Florida's Dave Herard (No. 38). The 6-2, 180-pound Johnson stuck with the Hoos despite a late push from Arkansas.
Elsewhere in the class, linebackers Brandon Williams and Sam Brady helped to give Virginia a solid group in the middle. Brady — a 6-3, 200-pounder from Lincolnton (N.C.) who is listed by Rivals as the No. 37 prospect in North Carolina — was recruited by some schools at wide receiver. The 6-3, 200-pound Williams, the No. 38 outside linebacker nationally per Rivals, is a native of New Orleans and continued UVA's recent pipeline from "The Boot."
The steal of the class is likely to come down to one of three other prospects: three-star wide receiver Lavel Davis, three-star tight end Joshua Rawlings or dual-threat quarterback Ira Armstead.
Davis, a South Carolina native who is rated as the No. 14 player in the Palmetto State, checks in at 6-7, 205 pounds and is one of the most intriguing playmakers that the Hoos have signed at receiver since Mendenhall's arrival. Rawlings, the No. 12 recruit in Pennsylvania per Rivals, is the first true two-way tight end prospect the program has brought in over the past couple of classes and fits perfectly with their needs. And then there's Armstead, a raw two-star prospect who has a very Bryce Perkins-like skill set that has the coaching staff excited about his potential.
Armstead, Rawlings and Johnson are already enrolled at Virginia for the spring 2020 semester.
— Brad Franklin