Continued Success:
Melanie Mitchell Is Still Engineering Success In Charlottesville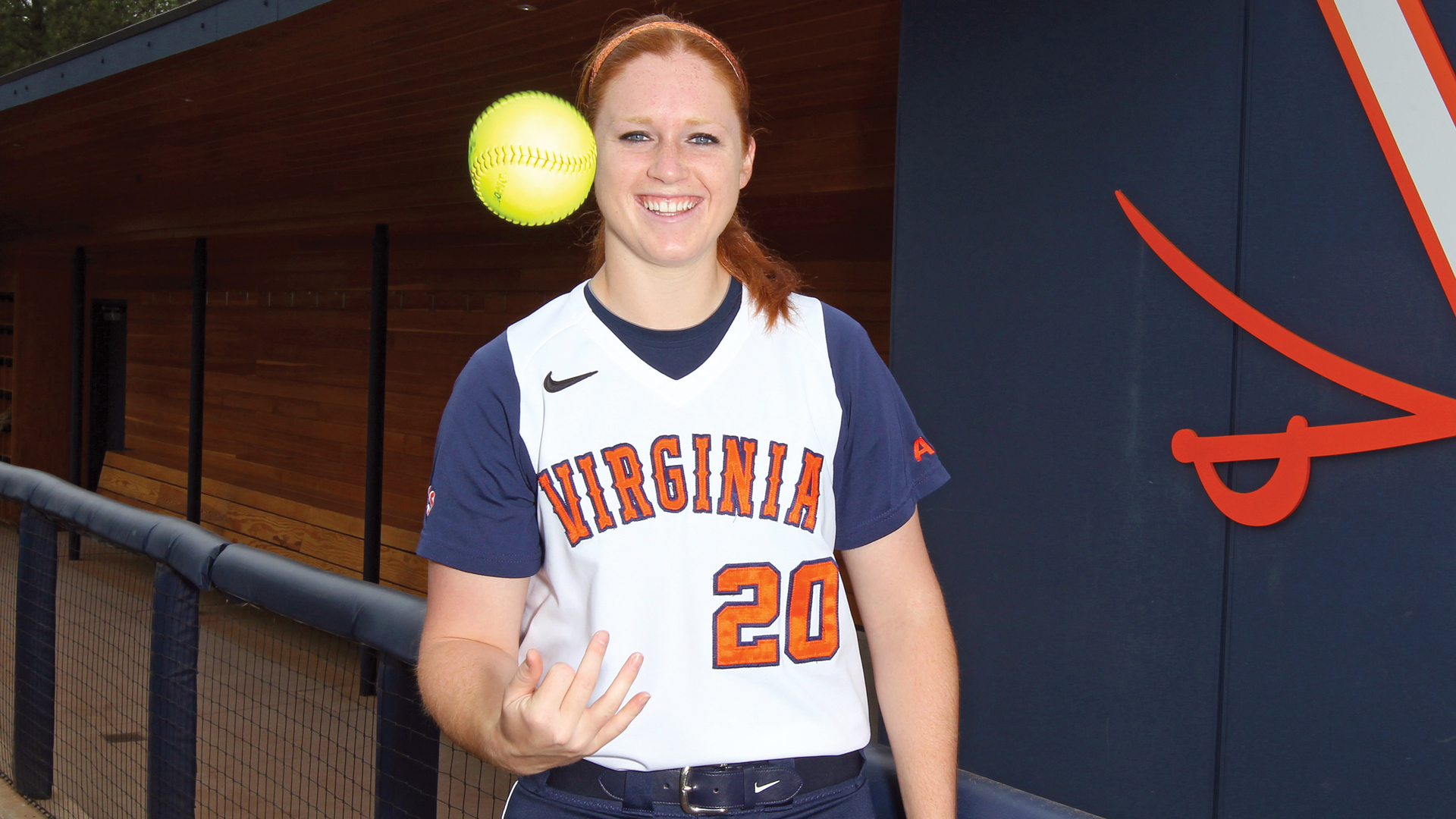 Former star UVA softball pitcher Melanie Mitchell has graduated and is now in the real world, but she's still in Charlottesville and not much about her work ethic has changed since her college days.
A four-year workhorse on the mound for the Cavs with nearly 30 top-10 appearances on the school's all-time single-season and career lists, Mitchell's work output is still impressive despite not playing on the diamond anymore. In addition to her full-time position as an engineer at Virginia Diodes, Inc., she is a certified personal trainer, broadcasts softball games on the ACC Network and ACC Network Extra, and often continues to find her way to Grounds to support UVA student-athletes.
"I'm the type of person who is always on the go and really likes to have a lot of stuff to do," she said. "Even when I was in school doing athletics and engineering, I had a couple of other mentorship groups that filled the small gaps of time I did have. One of the best parts of engineering is I really got out of the athletics bubble."
While Mitchell is no longer officially a part of that athletics bubble, she doesn't stray far from it. Literally. The gym where she moonlights as a personal trainer and fitness class instructor shares a building with her full-time gig, and she still participates in sports, although the former ace pitcher doesn't get much enjoyment from slow-pitch softball and now prefers volleyball and hiking.
Going far from her roots has never really been in the plans for Mitchell. She turned away more marquee softball powerhouses in order to stay close to her family in White Plains, Md., and to earn an immediate-impact opportunity with the Cavaliers.
On the heels of a stellar debut from Mitchell — who was not only an All-ACC and All-Region first-team selection as a first-year, but also set the school's single-season record with 286⅔ innings pitched, tied the previous mark with 27 wins and finished second with 295 strikeouts — the Cavaliers reached the NCAA Tournament for the first time ever.
"We had a couple of fourth- and fifth-years on the team who had a lot of years of really tough, down-on-their-luck type games," Mitchell recalled. "We had four or five in my recruiting class who mixed in with that older group and it was a really special year for us. It was really nice to know that a group of first-years could help those older girls who had been through the roughest points of the program."
The seeds for that end-of-season success to come were planted early.
Mitchell recalls being on the mound in an early season tournament against powerhouse Arizona. The Wildcats were ranked No. 2 nationally at the time while Virginia started the Judi Garman Classic in Fullerton, Ca., with a 1-4 mark through its first five games to fall to 13‑12 on the year.
However, in the event's final contest, Virginia — despite several key injuries — rose to the occasion behind its rookie pitcher who limited the eventual NCAA runners-up to seven hits while striking out six and allowing just one run in a 2-1 upset.
At the time, Mitchell thought the game ended on a line drive that came screaming at her head. Only later did she notice possibly her only blunder.
"I watched the video and it was above my head with my arm fully extended — if I had not caught it, it was probably a home run," she admitted with a laugh. "… I grabbed it out of the air, but I did not even know that I caught it."
After turning her glove to find the ball in it, Mitchell spiked it to the ground in excitement — an out-of-character moment for an introvert who always wanted the ball, but preferred to be seen and not heard.
That early regular-season triumph from her first year remains Mitchell's favorite memory of a decorated softball career on Grounds. It provided a confidence boost for the team and its young pitcher who went on to achieve incredible heights.
Though the Cavs never again reached the NCAA Tournament, Mitchell continued to excel. She finished her career as just the fourth in ACC history to reach 1,100 strikeouts and as UVA's all-time leader in strikeouts (1,101), wins (79), complete games (117), innings pitched (942), starts (144) and appearances (161).
In addition to the records, she also had to deal with disappointment, persevere through injuries, balance a demanding academic load with athletics, and the quiet kid even had to emerge as a leader — all experiences that help her to this day.
"At my job now, our leadership really values being a student-athlete," she said. "It's hard to comprehend when you're in the thick of it — you don't think what you're doing is difficult, you don't think you're exceptional because you're playing a sport and going to school. You see other student-athletes and it's just kind of what you do.
"You realize after you graduate and look back that it was a huge time commitment. You learned how to deal with other people, maintain professionalism no matter what and adapt your leadership style to who you were working with — understanding who you are working with and what motivates people. It
really translates."
— Ryan Tice