five questions with
Women's Lacrosse Head Coach Julie Myers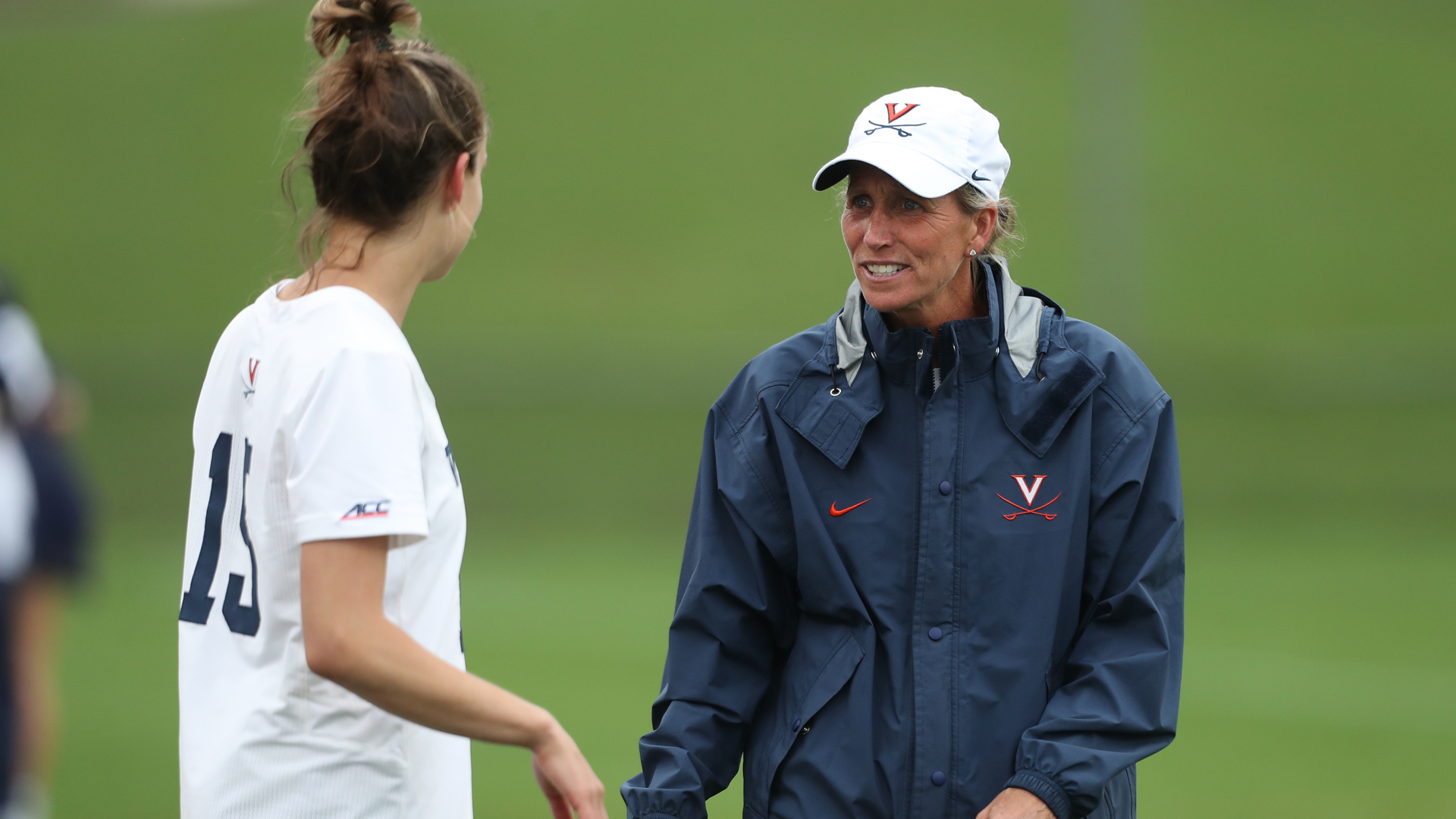 Regardless of who puts together the Virginia women's lacrosse schedule, an appearance in the NCAA Tournament invariably is part of it — due in large part to the coaching of alumna Julie Myers.
In each of her first 24 seasons, Myers has guided the Wahoos to the NCAA Tournament — a feat unmatched by any other Division I coach in the same period. The proven winner became just the fourth coach in women's lacrosse history to reach 300 career wins in 2017 and enters 2020 with a 324-152 career record (.681 winning percentage).
Myers has been a part of three NCAA championships at UVA — one as a player (1991), one as an assistant coach (1993) and one as a head coach (2004), which made her the first person in women's lacrosse history at the NCAA Division I level to win a title as a player and a head coach.
The Cavaliers have also been ranked in the IWLCA Coaches Poll all but four weeks during Myers' tenure.
Cavalier Corner: What's one reason why the Cavaliers have had such success during your tenure as head coach?
Myers: "The best part of Virginia is the support we have and the players who want to put it on the line. It has great people at the university and shows you how great you can be.
"I feel so fortunate for all the players that have come through because they're all high-quality people."
Cavalier Corner: Since you're a Virginia alumna and played on the 1991 national championship team, how does that compare with the success you've had as a head coach?
Myers: "I think it sets a tone knowing that a national championship is possible. When we won it in my fifth year it makes you hungry and makes other teams want to experience that type of success. It makes you know you can work hard and win a championship.
"It makes me want other teams to have that type of success. It kind of raised the bar."
Cavalier Corner:How did it feel to become the first person in women's lacrosse history at the Division I level to win a title as a player and a head coach?
Myers: "It was a huge accomplishment. I didn't realize it had not been done. It has been done since, so it's nice to share that type of accolade.
"We had lost in that championship game prior to 2004. So it was nice to get back. It was a monkey off my back when we won that championship. It was a great group of women who won."
Cavalier Corner: Is it more difficult to win an NCAA championship or defend it?
Myers: "It's so hard to get there. It takes so much work with so many things coming together. It's more difficult knowing what's on the line.
"Only two teams make it to that game and only one wins."
Cavalier Corner:Given the All-Americans and All-ACC players you have developed, what do you look for in a player when you're on the recruiting trail to make sure they'll succeed at Virginia?
Myers: "I love true athleticism, agility and speed. I love when a player does the dirty things. You look for that positive energy when they have the ball.
"When they are around the action and making the right decisions, it makes me excited about what the possibilities can be."
— Mike Scandura