cavalier profile
Andreas
Ueland
Second-Year
Soccer
cavalier profile
Andreas Ueland
Second-Year • Soccer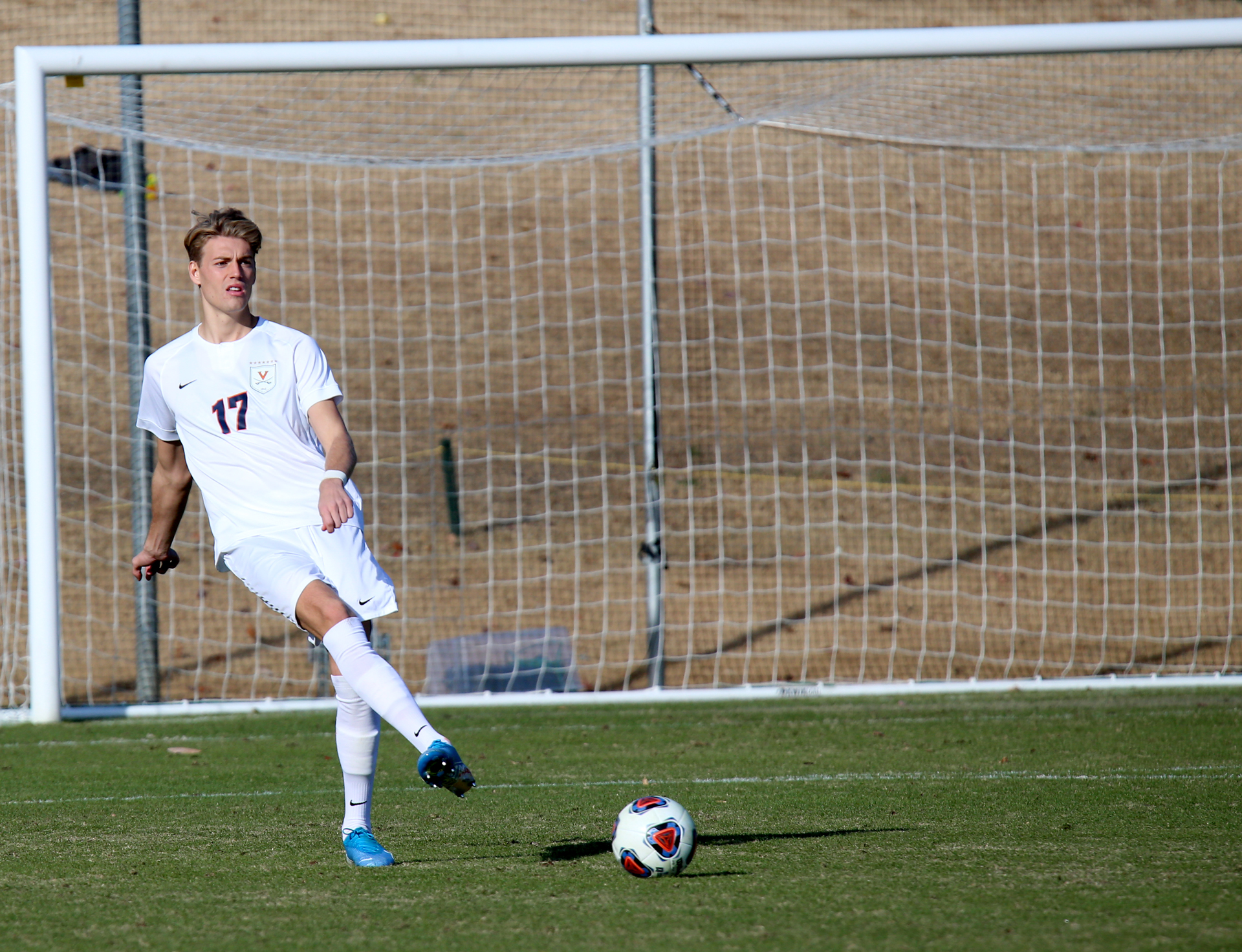 By Scott Fitzgerald • Photo by Jim Daves
The first year as a student-athlete at an American university could not have been scripted better for Andreas Ueland, a rising second-year defender on the Virginia men's soccer team. Ueland emerged as one of the key pieces on arguably one of the best teams in program history last fall.
Hailing from Bryne, a small town in Norway, Ueland flourished as a first-year in 2019, garnering Freshman All-America honors from TopDrawerSoccer.com and earning spots on the All-ACC third team as well as the league's All-Freshman squad. He played every single minute and was pivotal on a Virginia back line that yielded 13 goals in 24 games, holding opponents to a 0.53 goals-against average, the lowest in the country. The Cavaliers also produced 15 shutouts, the most of any team in the NCAA.
Early on, Ueland had a hunch that the Cavaliers were a team destined for success.
"I knew I came to a good team," Ueland said. "I didn't know many of the players before I arrived. However, I had spoken to a few and knew we had a strong team that could compete for trophies. After a couple trainings and games, I knew that I was a part of a special group of players."
Ueland is in rare company at Virginia when it comes to first-years that have contributed in a big way. Only nine UVA rookies have started every game on one of UVA's 13 College Cup teams and only two, Ueland and Sheldon Sullivan (2014), played every minute of every match their first year on Grounds.
The 2020 team will have a much different makeup after four Cavaliers with eligibility remaining — Joe Bell, Daryl Dike, Henry Kessler and Daniel Steedman — left to play professionally.
Ueland is expected to anchor the traditionally strong Cavalier defense. He has been named a co-captain along with fourth-year Nathaniel Crofts on a team that will receive an injection of 13 newcomers (eight true first-years, three transfers and two graduate transfers) to its roster.