cavalier profile
Rohann
Asfaw
Fourth-Year
Cross Country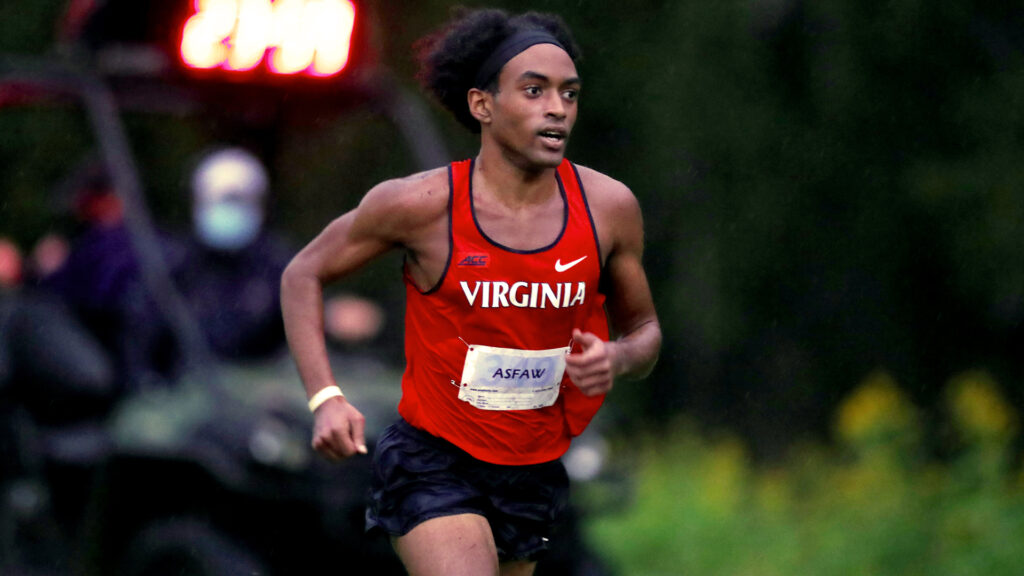 By Bill Bunting • Photo by Matt Riley
Rohann Asfaw, a fourth-year on the Virginia men's cross country team from Rockville, Md., has been a key to the success of the program this fall, helping the squad get off to a quick start in its shortened season.
Asfaw became the first Cavalier to earn National Athlete of the Week honors from the United States Track and Field and Cross Country Coaches Association (USTFCCCA) after claiming the Virginia Invite title with a time of 24:03.1 in the 8,000-meter race. He earned the honor a second time after cutting that time by more than 30 seconds with a first-place finish and a time of 23:32.5 at the Wolfpack Invite, then won the regular-season finale at the Virginia/Panorama Farms Invitational (23:52.5).
"It means a lot," Asfaw said of winning the USTFCCCA honors. "It's nice to be recognized for the performances and I put a lot of smart work in. It's nice to see it pay off, and it's nice to be able to go out and execute in races."
Winning three consecutive races to start the 2020 season is a continuation of growth for the fourth-year who won his first race as a Cavalier in 2019, when he claimed the Cavalier Classic crown. He attributes the jumps in performance to his training and ability to stay healthy, but also has some rituals before his races and while running that help him find a zone and maintain his rhythm.
One particular tradition is listening to musical artist Enya to settle himself before the race and set a pace during his run.
"It's a ritual I have every day to listen to her pretty much all day to kind of just mellow out before races and just calm all the nerves and everything," Asfaw said. "It's really easy in a race to feel overwhelmed or feel like you're freaking out because maybe the pace at the start is really fast or someone's made a move and you don't know how to react.
"Having some mellow music in my head just calms me down. It lets me focus and make the right calls should a situation come up like that."
Those calls have paid off for Asfaw so far and he hopes they continue while the Cavaliers prepare for the ACC Championships.