cavalier profile
Taylor
Henricksen
Redshirt Second-Year
Field Hockey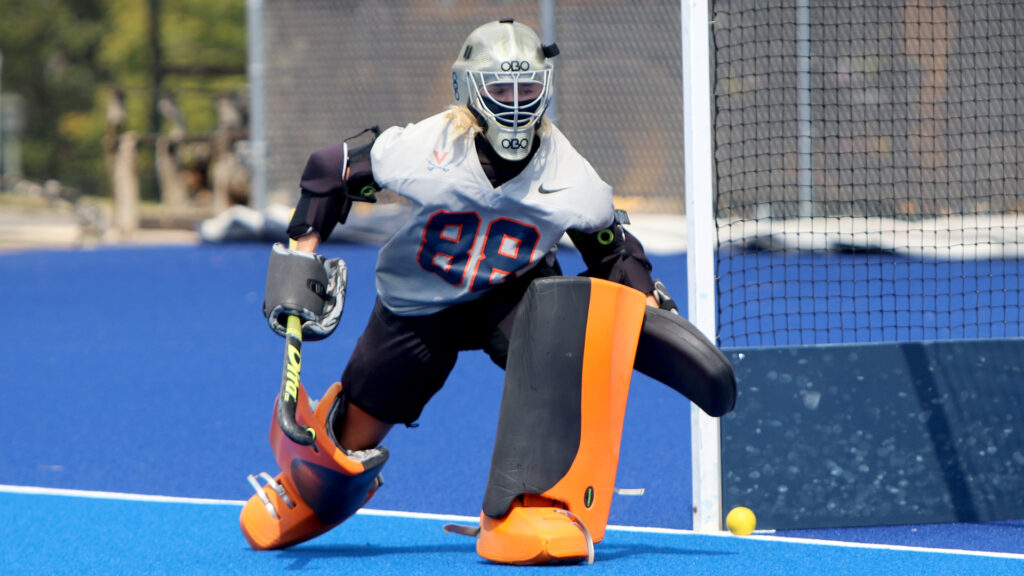 By Melissa Dudek • Photo courtesy UVA Athletics

Virginia redshirt second-year goalkeeper Taylor Henriksen was all smiles after she and the Cavalier field hockey team downed Wake Forest 1-0 in their second game of the season Sept. 27.
"I've been waiting two years to have my first career win, so here we are," she said. "It feels good!"
It was not only the first win of Henriksen's career, it was the pinnacle of goalkeeping, a shutout.
The native of Falls Church, Va., was making just her third career start when she posted the clean sheet against the Demon Deacons. Two days earlier, in the opening game of the season, she made nine saves in what ended up being a 2-1 loss to that same team. In total, during the opening-weekend series, she tallied 12 saves, putting on a performance worthy of earning ACC Defensive Player of the Week and Play Safe NFHCA National Defensive Player of the Week honors.
"As a backup goalie, this is what you work for, being ready when your number is called," head coach Michele Madison said.
Yes, the National Defensive Player of the Week was, in fact, UVA's No. 2 goalie making an emergency start. Henriksen had previously played just 24 minutes in net during her Cavalier career.
"It was definitely a little nerve-wracking that first full game I played, but I knew I could count on my team to have my back, and they did," Henriksen said.
Through the season's first eight games, Henriksen ended up starting the first five and posting a .769 save percentage with two shutouts and three wins.
"I think she's just really calm and dependable," Madison said. "She keeps her eye on the ball and she has a great defense in front of her. They're playing well for her. She just stays positive and stays humble and makes a save. That's her job.
"It's great to see her playing so well in goal and giving us some options at that position."