Cavalier Corner Fan Shop
Virginia GridIron III Stand Bag
3219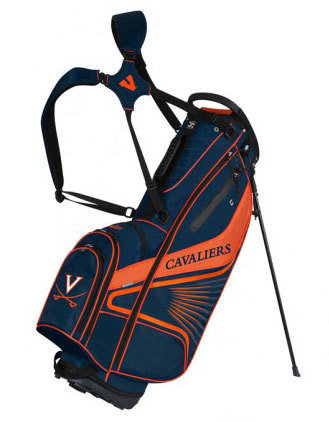 In Stock Now!
The GridIron III Stand Bag has six strategically placed zippered pockets to accommodate all equipment needs - including a velour lined valuables pocket featuring a waterproof bonded zipper, apparel pocket, and four accessory pockets. A 6-way organizer top with 2 full length dividers keeps clubs in order throughout your game. The oversized towel ring, glove patch, and integrated pen sleeve provide functional storage.
The GridIron III Stand Bag is made to last with a durable leg stand system and ultra-lightweight 210D nylon. A 6-way organizer top keeps your clubs in order throughout play. Long-lasting sculpted hip pads allow you to comfortably and efficiently carry the weight of your bag. Other features include removable zippered rain hood and two-point umbrella holding system.

Virginia Cavalier GridIron III Stand Bag features:

6-way organizer divider top with 2 full-length dividers
Comfortable carry double-strap system with V-Swords logo
Easy grip handle
Long-lasting sculpted hip pads
Rounded pocket openings for easier access to contents
Oversized apparel pocket
Thermal-lined beverage pocket keeps your drink cool
Range finder pocket
Oversized apparel pockets
Velour-lined water resistant valuables pocket
Three accessory pockets
Oversized towel ring
Glove patch and integrated pen sleeve
Two-point umbrella holding system
Removable zippered rain hood
Ultra lightweight 210D nylon
Durable leg stand system
Four officially licensed embroidered Virginia Cavalier trademarks in orange and blue
FREE SHIPPING direct from manufacturer!
Delivery area limited to continental U.S.
Returns not related to damage are subject to restocking fee.