Cavalier Corner Fan Shop
Virginia Cavalier Grill Cover
3151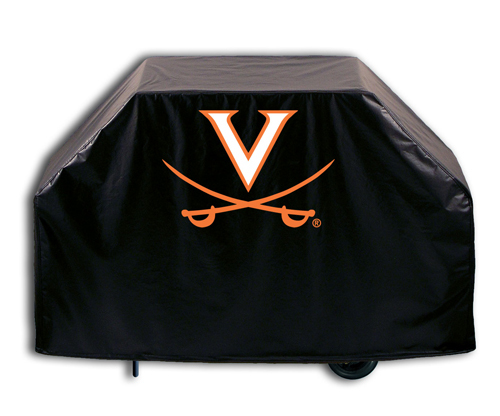 There are a number of companies currently offering branded grill covers, and for the most part all are made of a low grade light weight poly vinyl blend with single stitch construction and imprinted with standard color inks.

We have chosen to offer grill covers by Holland Bar Stool, hand-made from the some of the finest commercial quality breathable heavy duty outdoor vinyl available with double stitch construction. Features include drawstring hold-down and are imprinted using a special formulated epoxy vinyl ink that contains a UV block to help fight the damaging effects of the elements. The ink seeps deep into the pours of the vinyl to insure a crisp, vibrant long-lasting logo.
Covers are available in 2 sizes:

SMALL: 60" wide X 36" tall X 21" deep ($51.95)
LARGE: 72" wide X 36" tall X 21" deep ($54.95)
Grill covers are made to order and ship direct from the manufacturer.
Shipping available within continental U.S. and may take up to 3 weeks.
Returns not related to damage may incur restocking fee.
UPC:GCBKVirginiaV
Coman:3151
Size
Small: 60" Wide (0) Large: 72" Wide (0)