Cavalier Corner Fan Shop
Cavalier Corner April 2019
3004-Apr2019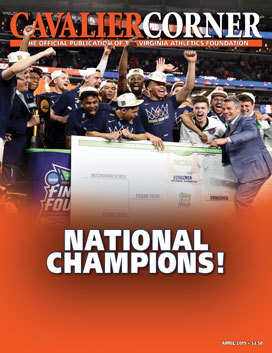 Cavalier Corner is the publication for University of Virginia sports fans.
This month's issue of Cavalier Corner features the men's basketball team on the cover and looks back on its incredible run to the program's first national championship.
This edition also includes:
A feature on Senior Associate AD for Programs Jane Miller

An overview of Virginia football's 2019 recruiting class

Stories on rower Heidi Long and baseball player Andrew Abbott

Plus much more!
Price includes first class delivery within U.S.
See foreign delivery rates listed or call 1-800-421-7751 (919-688-0218)
Delivery Options
Regular Delivery (in U.S.A.) (0) Canada (6) Mexico (9) All Other (11)